The Tynietoy Colonial Mansion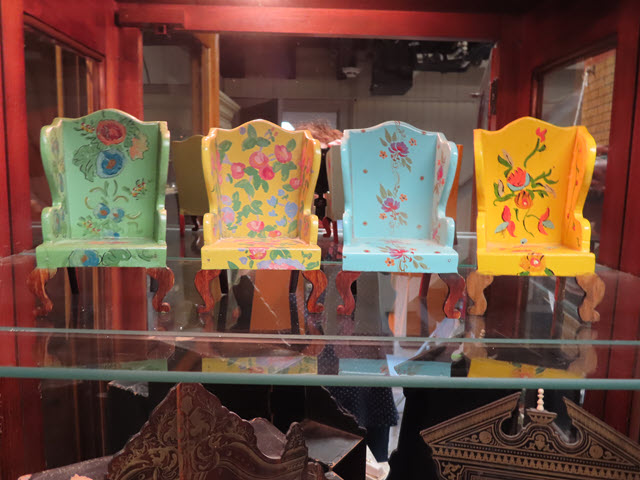 This is the largest of the Tynietoy dolls' houses made in Providence RI - Circa 1920. In studying the architecture of this house, you will see a gambrel roof, a kitchen wing, an elaborate front entrance with a double arch and columns and transom windows above and on the sides of the entrance. A stenciled fan design appears under the archway. The windows are made of isinglass with painted pane divisions. The house is painted a rich ivory color with green wooden shutters and doors that decorate the front and sides of the house.
The front of the house lifts off to expose nine rooms in the main part of the house and four rooms on the attached wing. One of the most identifying features of this house is the "mural" painted in the music room which is on the first floor to the right. Above the doorways are cut out pediments with broken archways and base boards on all the walls. Lovely set in fireplaces in the dining room and music room have faux painted over mantel panels in blue with marbleized hearths. French doors appear on the ground level for the more formal rooms! A staircase with spindle railings climbs from the first to the third floors.
The wing on the house has some unique architecture with a kitchen and pantry on the first floor and a nursery and bathroom on the second floor. The nursery even has a fireplace! You will notice that all the interconnecting doors are painted a cream color or are stained in mahogany with lines that represent paneling. The more formal rooms have the stained doors.
The house has a total of 13 rooms! It is one of the most desired dolls' houses for a collector. This particular Colonial Mansion was given to a child at the age of ten years old and has remained with her for more than 70 years! It has never been changed or repainted and is in its wonderful original condition today. The house is located in New England will be sold separately and unfurnished. If you have any questions, please contact me at antiquedh@comcast.net
Measurements: 32.5" h. x 58"w.
Price: Inquiries Welcomed
For further information, please email me at -antiquedh@comcast.net