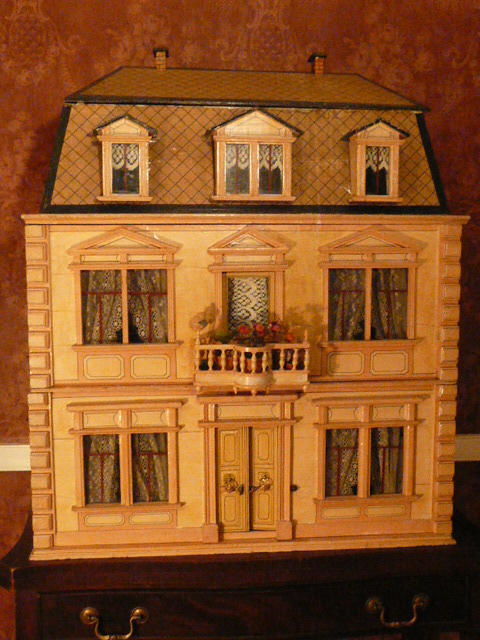 This Christian Hacker's Dolls' House is in excellent condition with its original paint and wallpapers. The exterior is painted a soft golden color with the trim work a few shades darker. All of the window treatment and painted decoration is as clear as if it were new. The raised quoining, painted lined windows, the original mansard papered roof, double door entrance with ormolu door knockers, the original curved balcony -are all intact.
House opens from the front to reveal 4 main rooms and two halls with a staircase and railing. The 3rd story is removable and contains two rooms with original wall and floor papers. The main part of the house has all its original wall and floor papers, original curtains with papered borders over each wooden bracket, painted ceiling medallions, and inter-connecting doors with butterfly knobs making it possible to lock each door.
Kitchen has a built in stove unit (stove is a block of wood with red brick paper) and a wonderful cupboard to display dishes. The house retains its original chimneys too.
Measurements: 37"h. x 31"w.x 16-1/2"d.
For further information, please email me at -antiquedh@comcast.net