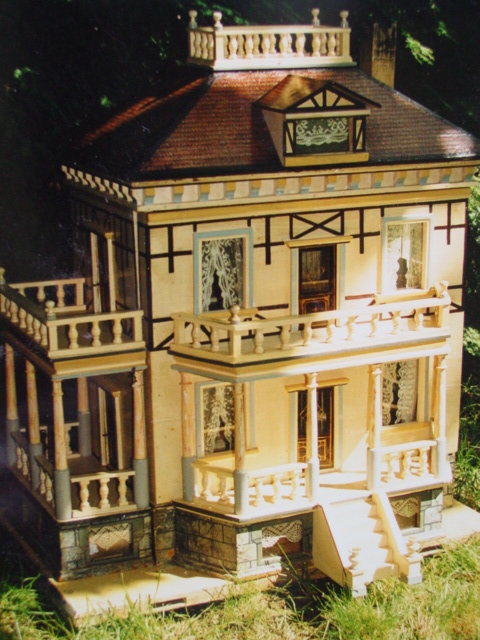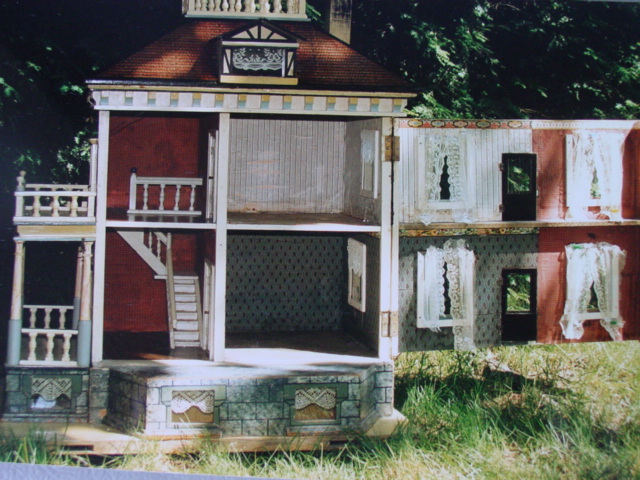 An Outstanding Christian Hacker Dolls' House
What an amazing house! The architectural details are abundant which certainly lends itself to the charm.
The house is totally original and has been well cared for throughout the last one hundred years! It is painted a soft pale yellow with gray trim and brown painted timbering on the upper level and on the large dormer. The roof has the typical Hacker lithograph paper with black edging. There are brackets under the roof carved in fine detail. This particular house is noted for the way some of the parts are removable. The roof is removable, the large center dormer pulls out, the chimney comes out, the widow's walk pulls off, the porches on the side are hooked on and the front steps come off. A noteworthy feature are the exterior and interior doors. The door knobs are unique with a butterfly latch. (turn the knob and it locks from the other side). The exterior doors are brown with gold decoration. The interior doors are a cream color with thin red lines. The house opens from the front to expose 4 rooms with a staircase. The lovely wallpapers are beautiful and all original. The house is with its owner on the west coast so shipping will be from there. We hope to get more photos from the present owner.
Measurements: 35"h.x 32"w.x 20"d.
Circa: 1900
Price: SOLD